2022 Fiat 500X Features
Discover the New 2022 Fiat 500X at Orlando Greenway Fiat
When you want a stylish subcompact crossover, the 2022 Fiat 500X delivers in a luxurious Italian-styled package with amazing comfort. Orlando's Greenway Fiat is proud to present this beautiful crossover that not only gives you amazing traction and control but also provides you with plenty of technology and amenities to keep you coming back for more. When you work with our experts at Orlando Greenway Fiat, we provide you with access to not only our lineup of 2022 Fiat 500X's but also with a wide range of dealerships across the country, making it easy for you to find the perfect Fiat 500X of your dreams without having to drive all over Florida to find it. But is the 2022 Fiat 500X the right crossover for you? Keep reading to discover its amazing features: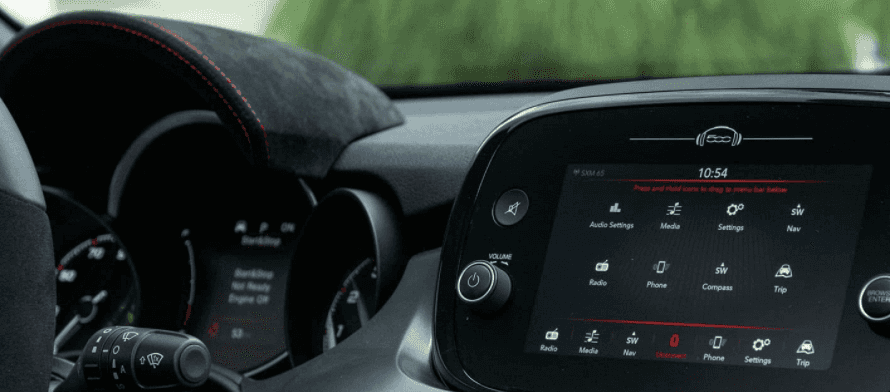 An impressive 1.3L I4 turbo diesel engine, with stop/start technology, provides 210 lb-ft of torque and 177 HP.
Standard all-wheel drive (AWD) keeps you safely on the road or roaming the trails.
UConnect with a 7-inch touchscreen equipped with voice command, Bluetooth streaming and hands-free calling.
A total of 75 safety features keep you safe from any rod conditions or situations.
Enjoy great fuel economy from an all-wheel-drive at 24 MPG city, 30 MPG highway, giving you a 381-mile range.
Seven different cloth and leather interior options combine with nine rich exterior paints for an amazing style.
A 40/60 flat-fold rear passenger seat and flat-fold front passenger seat give you cargo options.
Whether you're taking friends and family to the theme parks or heading to a rocket launch at Canaveral, you'll find the exact 2022 Fiat 500X you're looking for at Orlando's Greenway Fiat.
2022 Fiat 500X Overview
Available in four different trims, including the luxurious Yacht Club Capri, the 2022 Fiat 500X provides you with an amazingly stylish ride, a long-lasting diesel engine, standard all-wheel drive, and more comfort than you could imagine in a subcompact crossover.
The Al Fresco rooftop option gives you the opportunity to fold back the roof and feel the wind in your hair, while multiple wheel options allow you to customize your Fiat's exterior appearance. The Yacht Club Capri trim provides two-tone leather seating and a leather-wrapped shift knob combined with an available wood grain dash to give it a nautical feel.
Finally, enjoy your tunes on a road trip or across town with available Beats Audio premium sound featuring an eight-channel 506-watt amplifier and nine speakers, including subwoofer.
Greenway Fiat Orlando: Finding the Perfect Fiat for You
The Fiat 500X features prices ranging from $27,300 to $37,455, making it an affordable option for a fun ride. But sometimes life turns upside-down and your finances need a little help. At Greenway Fiat, we understand! We have an experienced finance team that can help you find a way to get into your 2022 Fiat 500X in an affordable fashion. We can also help you make the decision of whether you should lease or finance your Fiat 500X, so you'll get the best option for your budget.
Lower budget or not sure if it's the vehicle for you? Leasing gives you a lower payment because you're only covering the depreciation cost, making it lower than financing. It's also a shorter term, making it easy to upgrade without trade hassles.
Want a customized ride or want to take a lot of road trips? If you finance your X500, you'll own it free and clear, with no limitations on customization or mileage. You'll also be able to sell it at any time, providing you with flexibility.
Ready to get started? Take a few minutes to fill in an online finance application at your convenience, then stop down to find your Fiat 500X to take home. That means less time spent at the dealership and more time enjoying life.
Is a Fiat 500X The Choice For You?
If you've searched for an Orlando subcompact crossover SUV, you might not have found the 2022 Fiat 500X yet. Why not take the time to drop in and schedule a test drive to try one out? Contact us today to discover the extremely impressive 2022 Fiat 500X!