The Benefits of Getting Spring Service for Your Fiat
Springtime in Orlando means that summer isn't too far away with its high humidity and regular storms. It's the perfect time to bring your car to our service center at Greenway Fiat for a spring checkup to make sure your car is ready for the rising temperatures and wet roads. Our spring maintenance service consists of our factory-trained technicians inspecting all the major components of your car's engine and tires to help you keep your car running properly, so you'll avoid repairs on a vital system when you least expect it.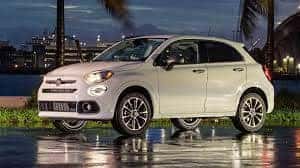 The Benefits of Getting Spring Service for Your Fiat
Springtime service for your car is a thorough checkup that looks for worn parts, tires that may need replacing, battery strength, HVAC operation, and more. You get the peace of mind knowing that your car is in good working order, that you won't have an unexpected repair or replacement to deal with, and that your car's systems respond as they should when you need them. There's nothing worse than finding out the hard way your AC isn't working when the temperatures and humidity spike, but you won't have to deal with this issue and others when you come to us at Greenway Fiat for spring service.
Why You Should Get Spring Service for Your Car
Cars are made from moving parts that wear down with time and use. You can keep your car on the road for longer when you engage in regular maintenance of the engine and peripheral systems. Getting spring service as a regular part of car ownership helps inform you as to the current condition of your car, allows you to get ahead of issues before they get any bigger, and keeps your car running safely and reliably.
Spring service is also good for the Fiat 500e even though it doesn't have an engine. The 500e still has some moving parts and items that need regular maintenance at certain intervals, and you can stay on top of those issues when you're in the habit of scheduling service in the springtime.
Services Included in Spring Maintenance
The spring maintenance service at Greenway Fiat is comprehensive and thorough and leaves no car system untouched. Our technicians will:
Look for worn wiper blades that need replacing
Check for air filters in the cabin or engine that are dirty
Check oil levels and perform an oil/filter change if needed
Brakes checked for pad wear, caliper performance, and rotor condition
Belts and hoses inspected for cracks and leaks
Tire tread and overall condition checked
Lights checked for burned-out bulbs
Electrical systems checked for proper operation
Top off all fluids
HVAC check
Shocks and struts checked for performance
Our spring service covers all of these areas of your car, and we also wash and detail the exterior and interior of your car when we're finished. Your car looks and feels like it just rolled off the showroom floor when we're finished with our spring service!
Come See Us at Greenway Fiat for All of Your Fiat's Service Needs
At Greenway Fiat, we want you to enjoy your Fiat for as long as possible, and offer a service center staffed by factory-trained technicians that are capable of taking care of all Fiat models. We want our customers to feel comfortable about bringing their cars to our service center by offering a comfortable waiting room that's full of amenities. We also serve all other makes & models, not just Fiats.  As part of our dedication to convenient service, we offer an online service scheduling option that helps you find a date and time for service that fits within your personal schedule. And if your Fiat needs bodywork, we have a full-service collision center that's capable of restoring your car to its full glory.